HOLLYWOOD HIGH-RISES
Move over Stallone, Schwarzenegger and Willis:
High-rises are the real movie-stars!
During the history of cinema high-rises have played major parts in many movies.
At least three times during the history of film making people have decided to simply call their movie 'Skyscraper'. There is a 1928, 1959 and a 1995 version.
Perhaps the most most famous example of this phenomenon is the 1933 motion picture King Kong. In the end the giant ape retreats on a giant skyscraper:
the Empire State Building. At least that's what it's supposed to look like.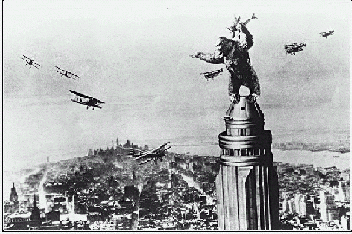 In the 1976 version of this movie again a high-rise is needed to bring the movie to a spectacular end: this time Kong climbs the World Trade Center in New York.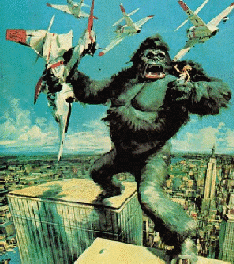 For those of you who can't get enough of this King Kong stuff I can recommend this amazing website totally dedicated to your favourite monkey.
There is a lot of information to be found on the web about an other very famous skyscraper movie; Die Hard
In this film Bruce Willis demolishes about half of the 40 stories of the 'Nakatomi building' in LA, while trying to get even with ultimate bad guy Alan Rickman.
Holly Prescott wrote this interesting article about city halls in films.
---
Back to index