 The wallpaper above was made by merging several filtered pictures of the skyline of La Defense, being the business district of Paris, France. Indeed, Europe is not completely flat but houses about 2 notable skylines. The downtown area of Frankfurt, Germany is the other one. This wallpaper does rather well with darkblue text.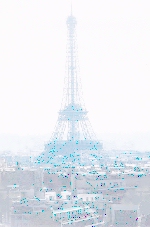 This wallpaper is an obvious interpretation of the Eiffel Tower in Paris, France. The picture is now over 12 years old but the Eiffel tower hasn't lost one bit of its beauty nor uglyness for the past 120 years.

This wallpaper consists of a series of 4 photos, embossed en filtered with Paint Shop Pro. It contains (from left to right): the Singapore skyline, West-Manhattan as seen from the water, the Skyline of the Shinjuku district in Tokyo, and a view of downtown Kuala Lumpur.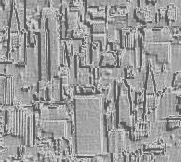 This is a combination of embossed pictures as taken from the circle line (the ship sailing around Manhattan) and from the Former World Trade Center in New York City. Looks very impressive as a wallpaper but doesn't combine to well with text.